PNJ, MKS Jewelry International showcase creativity, manufacturing strengths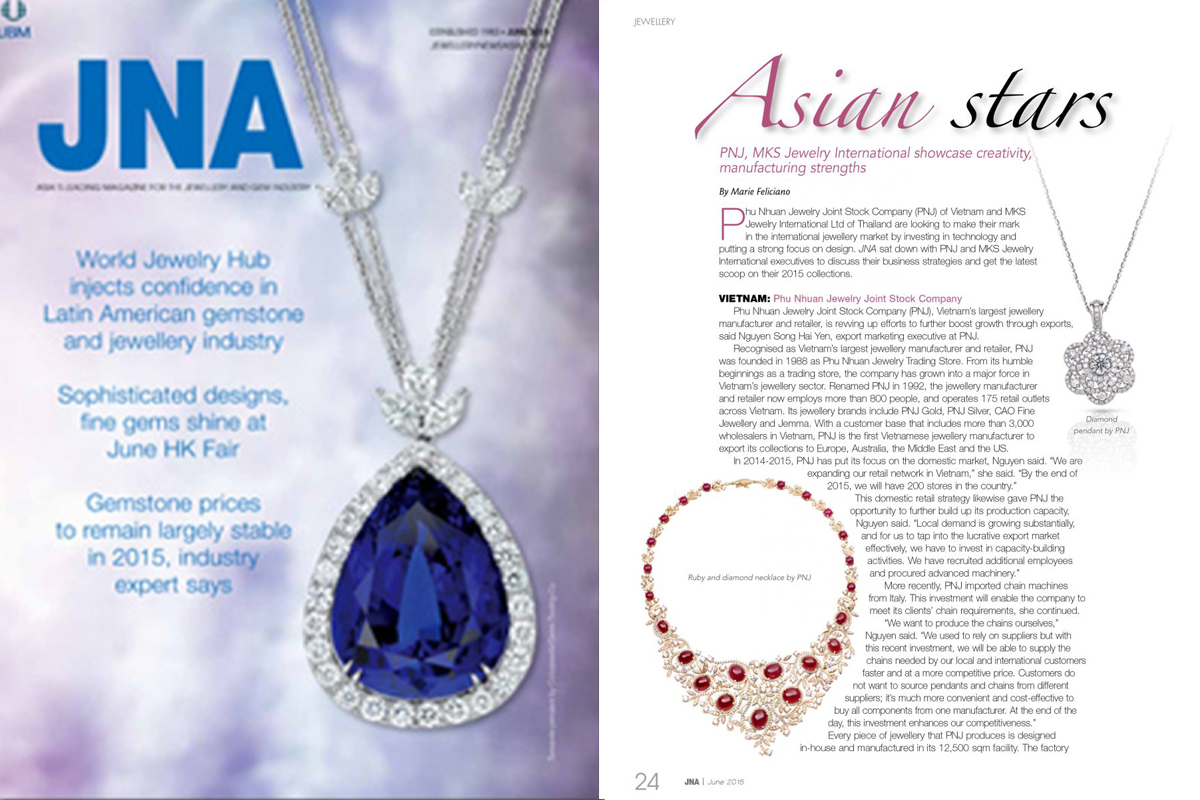 Asian stars
PNJ, MKS Jewelry International showcase creativity, manufacturing strengths
By Marie Feliciano
Jewellery column in Jewellery News Asia Magazine June 2015 Issue
THAILAND: MKS Jewelry International Co Ltd Thailand-based MKS Jewelry International Co Ltd continues to capture new markets with its trendy coloured gemstone jewellery brand, Mokoso Atelier.
The brand, which consists of nearly 35 collections (each collection comprises around 30 to 35 pieces), has impressed several retailers for its modern aesthetic and distinct style, according to company chairman Majid Algouneh.
Two of Mokoso Atelier's standout jewellery lines are the Lily Pond Collection, which drew inspiration from French Impressionist Claude Monet's "Water Lilies" series, and the Wings of Freedom Collection.
The Lily Pond Collection took elements from Monet's enchanting water landscapes. Long whimsical earrings and pendants serve as small canvases for Mokoso Atelier's water garden: Centerpieces resembling floating lily pads are set with blue sapphires and Tsavorites, and closely set rose-cut pink tourmalines, blue topazes and Peridots remind one of sunlight reflecting on the water's surface. Adding allure to the pieces are colourful miniature fish accents in 18-karat rose gold with scale motifs embellished with gemstones.
Some of the items in the collection boast three dimensional layers and varied gold finishes. Elaborate cuff bracelets are adorned with tiny frogs, butterflies, dragonflies and lily pads – often wrapped in coloured gemstones with a sprinkling of diamonds.
"Every item is light and easy to wear," Algouneh said. "We also have a wide price range, from entry-level pieces to bigger items encrusted with gemstones."
Jewellery design is right up MKS Jewelry International's alley. Established nearly four decades ago, the company invests $1 million in product development annually, Algouneh said in an earlier interview. The manufacturer produces more than 300 jewellery models each month – no mean feat considering the tough business environment – and boasts a solid creative and manufacturing unit in Thailand. Perhaps even more telling of MKS Jewelry International's design and manufacturing strengths is its customer base, which includes some of the biggest brands in the world, he added.
The company operates four separate manufacturing divisions within one factory, with each section focusing on a specific segment of MKS Jewelry International's business units namely wedding bands, volume line, branded and handmade jewellery production, Algouneh said.
The company executive believes the Mokoso Atelier brand strikes a chord with retailers because it provides them with a differentiating edge in a competitive market.
"They are tired of buying solitaire rings; they need something a little bit more exciting," Algouneh said. "Mokoso Atelier offers them a remarkable product mix, and this is based on the feedback that we have received from retailers in Europe, the US and Asia."
Mokoso Atelier's other successful collections include Mosaic, Ginkgo's Autumn, Flutterfly, Rock Candy, Kaleidescope, Splash, Dream Catcher and Gaudi Glassworks. JNA

47/1 MOO 4, GEMOPOLIS INDUSTRIAL ESTATE, KWANG DOKMAI, KHET PRAWET, BANGKOK – 10250, THAILAND
Tel : +66 (0) 2727 0150 – 6   Fax : +66 (0) 2727 0160 – 1
E-mail : [email protected]