Conversation with JNA Magazine Sept 2014
Conversation in Jewellery News Asia Magazine Sept 2014 issue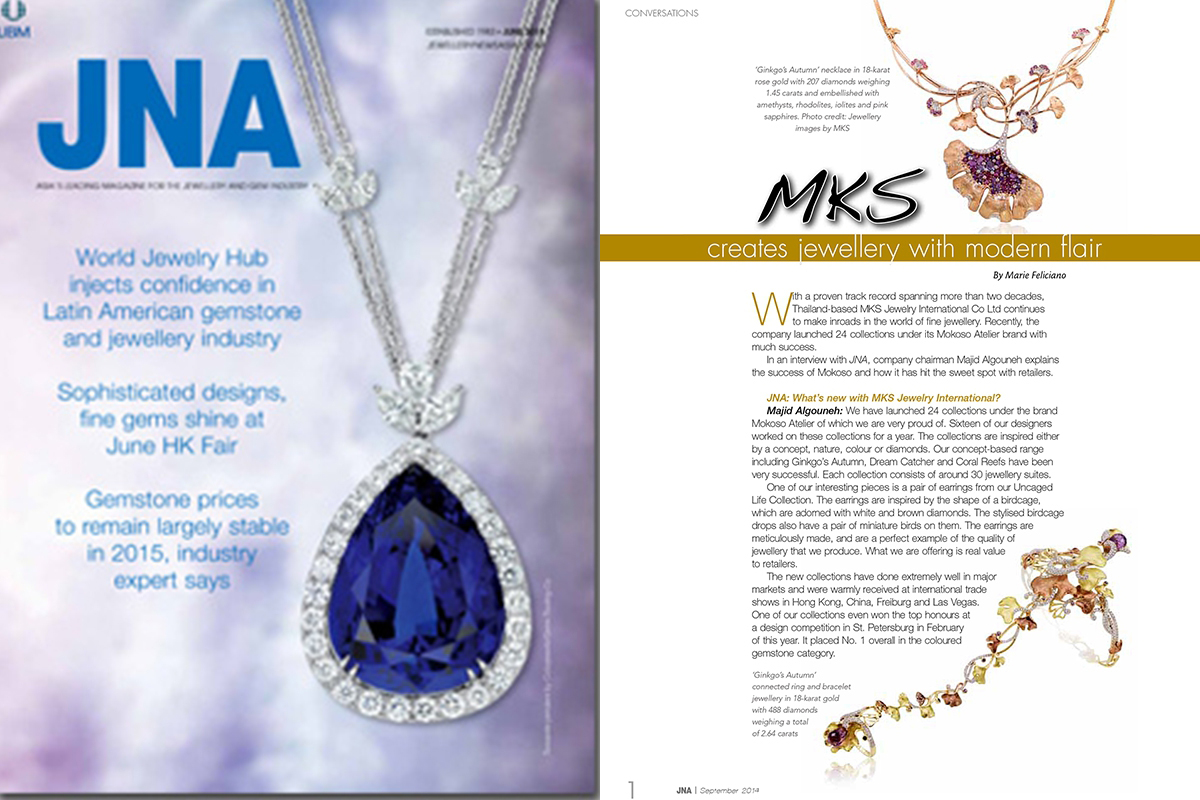 MKS creates jewellery with modern flair
By Marie Feliciano
Conversation in Jewellery News Asia Magazine Sept 2014 issue
With a proven track record spanning more than two decades, Thailand-based MKS Jewelry International Co Ltd continues to make inroads in the world of fine jewellery. Recently, the company launched 24 collections under its Mokoso Atelier brand with much success.
In an interview with JNA, company chairman Majid Algouneh explains the success of Mokoso and how it has hit the sweet spot with retailers.
JNA: What's new with MKS Jewelry International?
Majid Algouneh: We have launched 24 collections under the brand Mokoso Atelier of which we are very proud of. Sixteen of our designers worked on these collections for a year. The collections are inspired either by a concept, nature, colour or diamonds. Our concept-based range including Ginkgo's Autumn, Dream Catcher and Coral Reefs have been very successful. Each collection consists of around 30 jewellery suites.
One of our interesting pieces is a pair of earrings from our Uncaged Life Collection. The earrings are inspired by the shape of a birdcage, which are adorned with white and brown diamonds. The stylised birdcage drops also have a pair of miniature birds on them. The earrings are meticulously made, and are a perfect example of the quality of jewellery that we produce. What we are offering is real value to retailers.
The new collections have done extremely well in major markets and were warmly received at international trade shows in Hong Kong, China, Freiburg and Las Vegas. One of our collections even won the top honours at a design competition in St. Petersburg in February of this year. It placed No. 1 overall in the coloured gemstone category.
JNA: Who are your top buyers?
Algouneh: We have clients from the US, Japan, China, Russia and more recently, India. I think Mokoso has been successful because it is created around an innovative concept, which gives it a much broader appeal. The jewellery pieces are beautifully made – everything is hand-set – and reasonably priced. A piece of Mokoso jewellery sells for about $300 to $10,000 wholesale depending on the size of the item and precious materials used. It's a very attractive price point.
JNA: What is your competitive edge?
Algouneh: We have a very strong creative unit, a team of experienced and highly skilled craftsmen and a world-class manufacturing facility. We have a portfolio of strong brands. Currently, we produce more than 300 jewellery models every month. Product development is a vital part of our business. In fact, we invest nearly $1 million each year on product development alone. It is money well-spent judging from the results. This is best exemplified by one of our pairs of 360-degree hoop-withinhoop diamond earrings, which can, as the collection's name implies, spin 360 degrees. There are four hoops – all covered with diamonds on one side – and they move with the wearer. The tiny diamonds are manually set by our craftsmen.
We also count some of the top brands in the world as our clients. We manufacture their jewellery for them. This vote of confidence certainly carries a lot of weight, especially in an industry that expects and demands perfection. If they place an order for a $100,000-necklace, they expect the piece to be flawless. We must be doing something right because our customers are happy, and they continue to trust us with their important pieces.
We have four separate manufacturing units within one factory, and each unit focuses on a specific segment of our business. One of those units is solely for MKS Jewellery International.JNA: MKS Jewelry International is also known for its coloured gemstone jewellery.
JNA: What makes you stand out in this product category?
Algouneh: We have access to the top coloured gemstone suppliers in the world. We also have a gemstone re-cutting facility in our factory. We re-cut the stones if the design calls for it.
JNA: What is the key behind your business' longevity?
Algouneh: We constantly innovate and reinvent ourselves. We keep our designs fresh and our pricing attractive.
We create pieces that have that 'wow' factor like our 'Ginkgo's Autumn' connected ring and bracelet jewellery. This particular piece – the collection was designed by my wife – is in 18-karat tri-colour gold and the leaves are set with 488 diamonds weighing a total of 2.64 carats. Each gold component has a different finish. It is made up of so many parts that you cannot use machinery to produce this.
We are willing to go to great lengths to create something as beautiful as this because we love what we do. We want to delight and surprise our customers, and I believe this is the key to our business' longevity. JNA

47/1 MOO 4, GEMOPOLIS INDUSTRIAL ESTATE, KWANG DOKMAI, KHET PRAWET, BANGKOK – 10250, THAILAND
Tel : +66 (0) 2727 0150 – 6   Fax : +66 (0) 2727 0160 – 1
E-mail : [email protected]